We produce rock salt from underground mines using both drill-and-blast and continuous mining techniques. Our rock salt mines are located between 500 feet and 1,800 feet below ground, and our mine in Goderich, Ontario, is the largest rock salt mine in the world. Our mines have extensive, consistent reserves with decades of remaining production.
DRILL-AND-BLAST
The drill-and-blast mining method begins by cutting into the rock salt face using specialized equipment. We then drill holes into the face and use explosives to break the salt into large rocks. Front-end loaders and trucks load and haul the salt to a crusher where it is reduced in size, loaded onto a conveyor belt and transported to a mill. The mill screens and crushes the rock salt to the customary size before the salt is hoisted to the surface.
CONTINUOUS MINING
The continuous mining method, which we employ at our Winsford, Cheshire, and Goderich, Ontario, mines, uses state-of-the-art machines with steel cutting picks to shear salt from the rock face, thus avoiding the need for explosive. Whether produced through drill-and-blast or continuous mining, we extract salt from each mine in rectangular "room" sections, leaving behind vast "pillars" of salt to support the mine structure.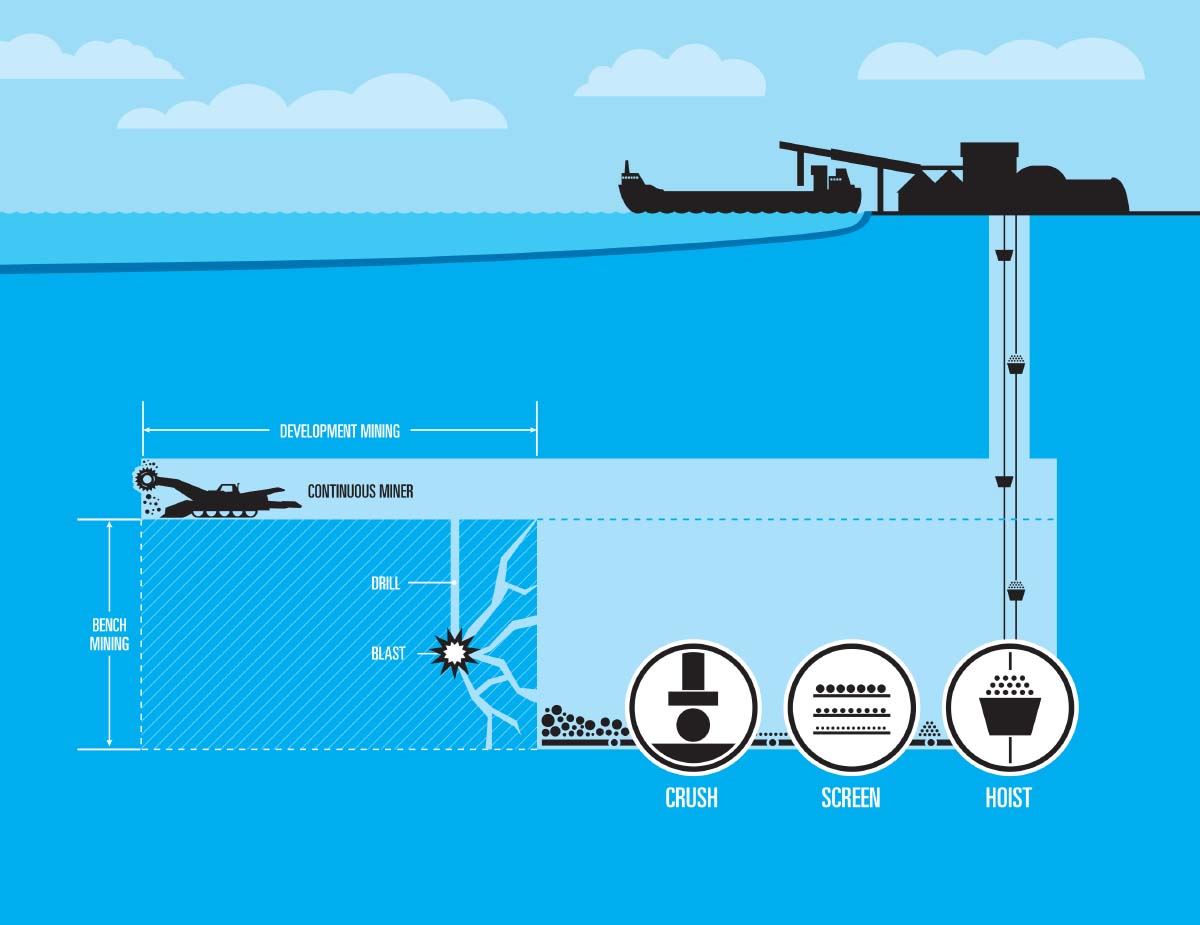 UNDERGROUND MINING CAPACITY
PROCESS
AMOUNT*
Underground Mining
12,500,000
*short tons annually
Solar evaporation is the oldest and most energy-efficient method of mineral production. At our Ogden, Utah, location at the Great Salt Lake, we draw highly saline waters from the lake's most remote areas into very shallow solar evaporation ponds to produce salt, sulfate of potash (SOP) and magnesium chloride. Compass Minerals is the largest SOP and magnesium chloride producer in North America.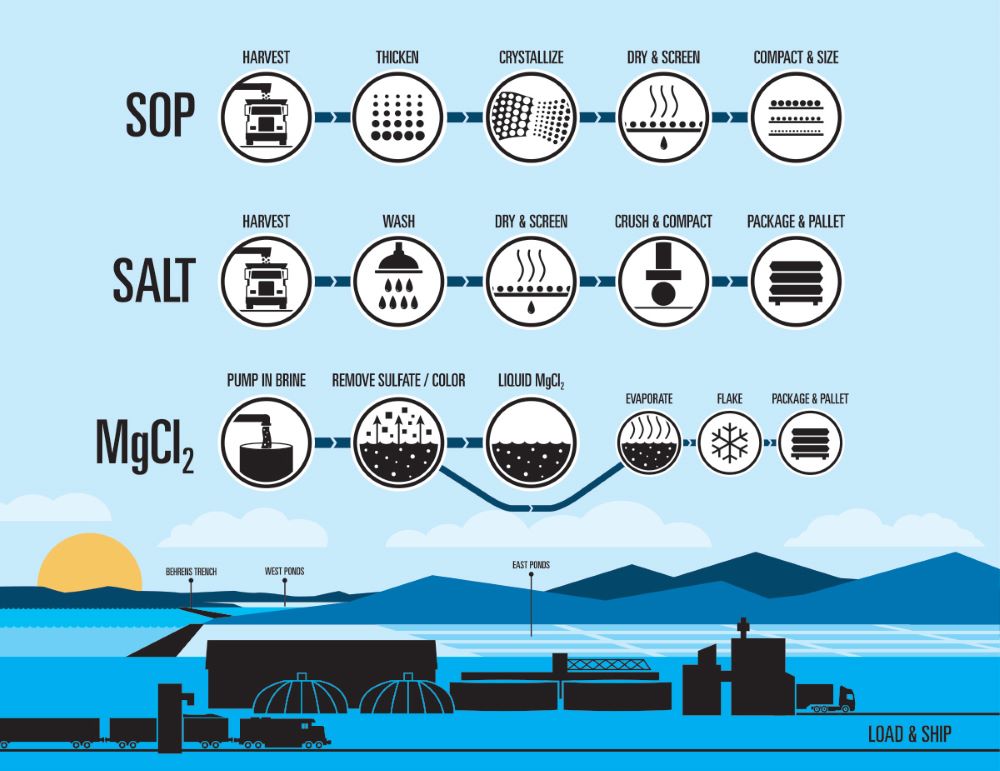 SOLAR EVAPORATION CAPACITY
PRODUCT
AMOUNT*
Salt
1,500,000
Magnesium Chloride
700,000
Sulfate of Potash
320,000
*short tons annually
Mechanical evaporation uses high-efficiency processes to yield high-purity salt for consumer, agricultural and industrial applications. We begin by injecting water into an underground salt deposit to create saturated brine. The brine is drawn out and evaporated in a series of large crystallizers. As the water evaporates, salt crystals remain and are then washed to remove impurities. In the final phases, salt is passed through a filter-dryer and then on to a processing area. The end result is a high-purity crystallized salt.
ION EXCHANGE
In Wynyard, Saskatchewan, we use ion exchange (IX) to produce potassium sulfate (SOP). The IX products are manufactured using the natural source of sodium sulfate from Big Quill Lake and crystalline potassium chloride. The resulting SOP is one of the highest purity SOP products in the world. These products are used in many specialty areas including pharmaceutical and food industries.
GLASERITE
We also use the glaserite process at Wynyard. The glaserite process produces SOP through a chemical reaction of anhydrous sodium sulfate and crystalline potassium chloride. SOP manufactured in this manner generally is used as a specialty fertilizer in high-value crops and other industrial uses.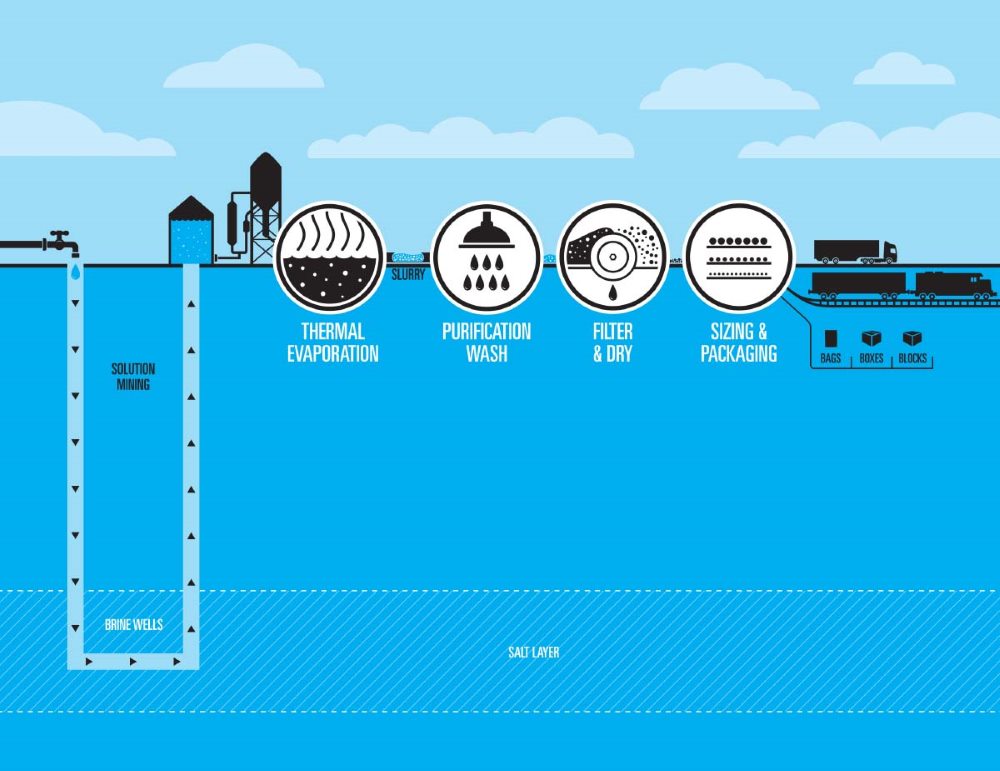 MECHANICAL EVAPORATION CAPACITY
PRODUCT
AMOUNT*
Salt
870,000
Sulfate of Potash
40,000
*short tons annually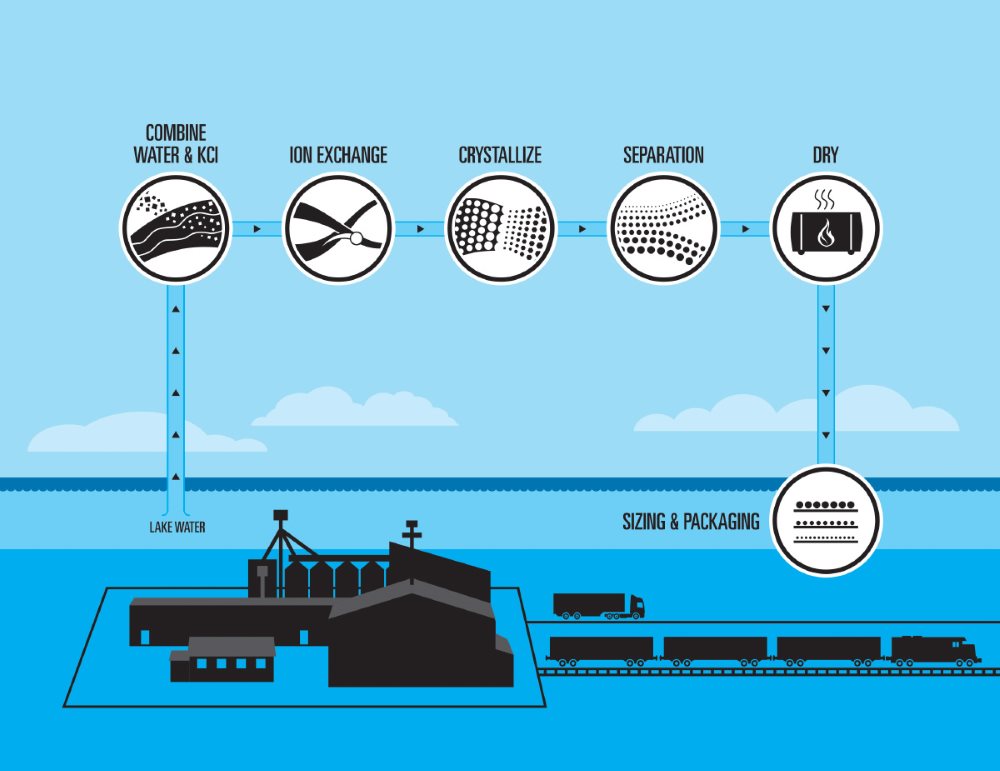 We package water conditioning and deicing products for retail and professional markets at our facilities in Illinois, Minnesota and New York. Product components are shipped in bulk to the locations where they are blended and packaged for sale through grocery, hardware, and farm and home stores, and for distribution to janitorial and sanitation professionals. The facilities serve deicing and water conditioning customers in the Central, Midwestern and parts of the Northeastern United States.