COMPASS MINERALS 2022 ESG REPORT
Compass Minerals is a leading global provider of essential minerals focused on safely delivering where and when it matters to help solve nature's challenges for our customers and communities. Through the responsible transformation of Earth's natural resources, we deliver products that help keep people safe, feed the world and enrich lives. That is our Core Purpose, and we take great pride in fulfilling it.
Fiscal 2022 ESG Report
Our latest report highlights our commitment to addressing and managing the environmental, social and governance (ESG) issues that matter most to our company and stakeholders. The Fiscal 2022 ESG Report is the first to be released since we announced our fiscal 2025 goals and targets. These goals, and the targets that serve as milestones toward achieving them, span the key focus areas of Our Workforce, Our Products, Our Communities and Our Environment. As fiscal 2022 ended, we achieved all three of our fiscal 2022 interim targets, are on track for 18 targets and have focused attention on one target.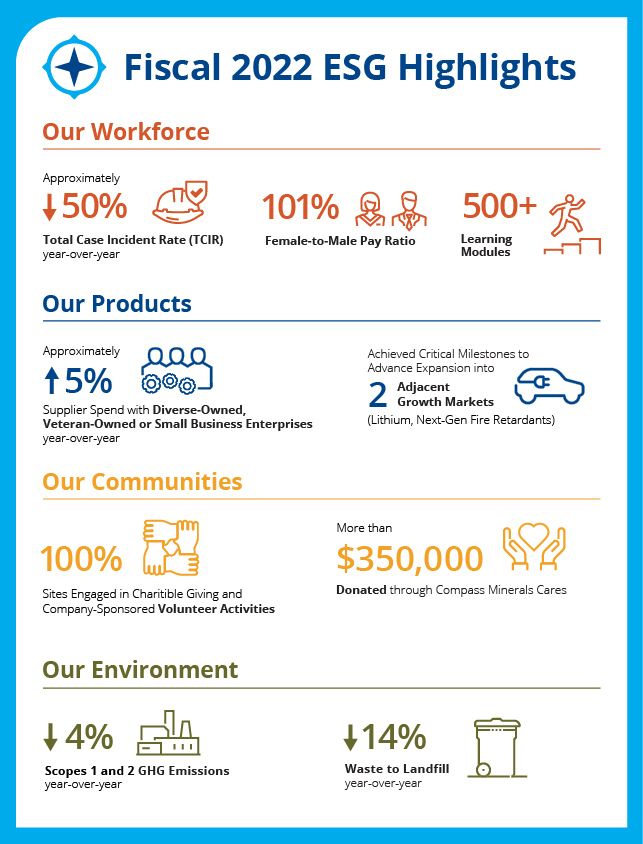 Our Fiscal 2022 ESG Report aligns with leading sustainability reporting frameworks, namely the Global Reporting Initiative (GRI) Standards and Sustainability Accounting Standards Board (SASB). We have additionally looked to the Task Force on Climate-related Financial Disclosures (TCFD) and United Nations Sustainable Development Goals (U.N. SDGs) to help inform our reporting and actions.
Data contained in this report labeled "fiscal 2022" covers the 12-month period beginning Oct. 1, 2021, and ending Sept. 30, 2022. Learn more about our company's programs, initiatives and successes from our efforts this past year by viewing the full report. Fiscal 2022 highlights include:
Leading with safety: Our Total Case Incident Rate (TCIR) was 1.27, representing one of the safest 12-month periods in our company's history since we have been tracking TCIR. This was an approximate 50% reduction in TCIR compared to the prior year. We continue to focus on the ultimate goal of zero harm, which includes zero injuries and zero environmental incidents. Additionally, 71% of our sites have begun implementation of the SafeStart® program, a behavior-based safety training that will help maintain our focus on safety.
Pursuing sustainable growth pillars: In September 2022, we announced the results of our strategic assessment for phase one of our lithium development, including the achievement of several key milestones relating to cost estimates, technology selection and the completion of a life cycle assessment to evaluate environmental impact. We also increased our equity ownership in Fortress North America (Fortress), a next-generation fire retardant company focused on reinventing wildfire application technologies. Fortress leverages the magnesium chloride produced from our Ogden solar evaporation facility to create a proprietary portfolio of innovative, environmentally friendly aerial and ground retardant formulations to fight wildfires and decrease fire risk.
Focusing on diversity, belonging, inclusion and equity (DBIE): We launched several DBIE initiatives, including an Executive Diversity Council, which is an internal advisory group that serves as a strategic thought partner and champion for our company's DBIE strategy. We facilitated 875 hours of targeted DBIE trainings focused on cultural competence and valuing difference, inclusive leadership, bias mitigation and allyship for employees, site leaders, human resource professionals and our senior management team. We also added four new employee resource groups and continued to leverage programs and partnerships to recruit potential employees from diverse talent pools.
Protecting human rights: We enhanced our Human Rights policy, including our commitment to the inclusion and recognition of vulnerable populations. The policy, which was approved by our cross-functional Policy Committee and chief legal and administrative officer and corporate secretary, and is overseen by our board of directors, addresses modern slavery and child labor, freedom of association, equal opportunity, compensation and benefits, workplace safety and security, community relationships and Indigenous Peoples, and training.
Engaging suppliers: We completed the development of an ESG supplier scorecard to assess supplier alignment with our company's values and ESG metrics. Topics include human rights, GHG emissions, waste and freshwater management, diversity and inclusion, community engagement and ethics. Supplier scorecard distribution and data collection will begin in fiscal 2023.
Driving positive change in our communities: We aligned 100% of our charitable contributions with the U.N. SDGs as well as our Core Purpose. We donated more than $350,000 through Compass Minerals Cares, and 100% of our sites were actively engaged in our communities through charitable giving and company‑sponsored volunteer activities. We continued to gather input to help guide our areas of focus through our community engagement survey distributed to community stakeholders.
Strengthening our commitment to environmental stewardship: We strive to protect and preserve ecological balance in the areas where we operate and to mitigate climate-related impacts from our operations. Our Scopes 1 and 2 GHG emissions declined 4% and our waste to landfill was reduced 14% compared to the prior year.
Receiving external recognition: For the second year in a row, Compass Minerals was named by Newsweek as one of America's Most Responsible Companies. We were also honored by Aetna as a Workplace Inspiring Change and our U.K. operations, comprised of our Winsford mine and DeepStore document storage, was once again certified as a Great Place to Work.
Our ESG Strategy
We approach our environmental, social and governance (ESG) work through a fundamental commitment to four key pillars: safety, growth, transparency and stewardship. Together, these pillars form our sustainability compass, guiding our decisions and business practices across all aspects of our company.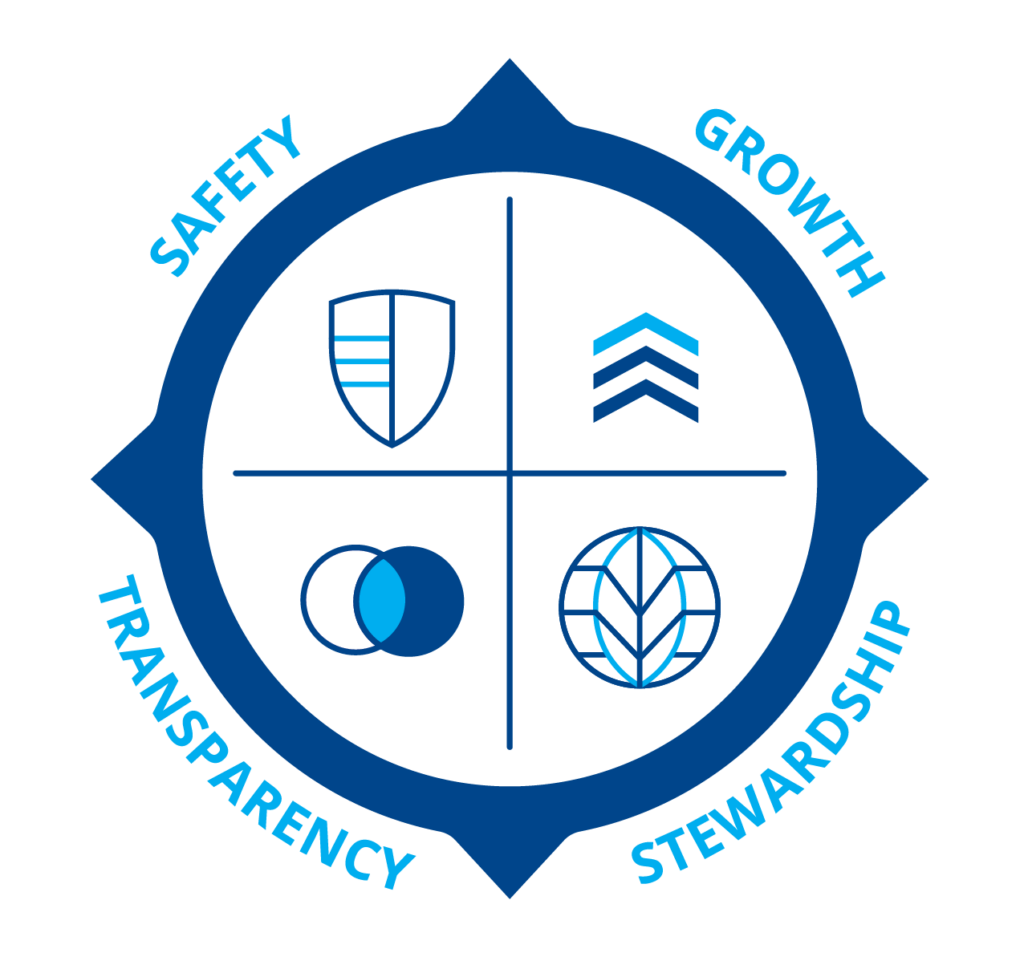 Safety: Striving toward zero harm, our highest priority is ensuring the health and safety of our employees and communities in which we operate.
Growth: We work to enable sustainable, profitable growth by maximizing the value and efficiency of our production assets, investing in our people, driving innovation and exceeding customer expectations.
Transparency: Firmly committed to a culture of trust, transparency and accountability, we seek open and honest communication with our stakeholders, while showing respect for diversity in all its forms.
Stewardship: We honor our responsibility to serve as good stewards of the natural resources we rely on to produce, manufacture and market essential mineral products, minimize the impact we have on our environment, and recognize the markets we serve may be impacted by a changing climate.
Questions and feedback on our ESG reporting are welcome. Contact us at sustainability@compassminerals.com.