Building a strong, high performance culture where everyone has a voice, and every voice matters, is essential to our success.
An inclusive and diverse workplace helps improve our business. Creating an inclusive culture allows us to truly empower employees throughout the organization to achieve high performance. We see inclusion as the deliberate act of seeking diversity in all its forms and creating an environment where everyone can succeed and thrive.
Our strategy to build this inclusive culture is based on the pillars of employee development, employee experience and a pipeline for diversity. Going forward, we seek to improve our performance in these key areas, which we believe are critical in terms of building our inclusive, high-performance culture. In addition to the metrics below, we are working to establish strategic partnerships and increased community engagement in order to build a sustainable pipeline for diverse talent. Last, we will be evaluating a variety of engagement measures to determine if we are succeeding in empowering and improving our employee experience.
We target annual improvement in the following areas:
Employee Development: Spending on employee training and development
Employee Experience: Gender pay equality and employee retention
Pipeline for Diversity: Gender and ethnic diversity among leadership
| | | |
| --- | --- | --- |
| Employee Development Spending (thousands) | 2017 | 2018 |
| North America | $908 | $1,186 |
| U.K. | $186 | $30 |
| Brazil | $320 | $302 |
| TOTAL | $1,414 | $1,518 |
The average spending per employee for development and training was $458 annually in 2017 and $497 in 2018.
| | |
| --- | --- |
| Male/Female Pay Ratio | 2018 |
| Brazil | 99% |
| Canada | 101% |
| U.K. | 99% |
| U.S. | 86% |
| TOTAL | 95% |
| | | | |
| --- | --- | --- | --- |
| Retention rate | 2016 | 2017 | 2018 |
| U.S. | 86% | 81% | 83% |
| Canada | 84% | 86% | 88% |
| U.K. | 80% | 88% | 86% |
| Brazil | -- | -- | 85% |
| TOTAL | 85% | 84% | 84% |
Diversity in Management
2016
2017
2018
(w/o Brazil)
2018
(w/ Brazil)
Women
VP/SVP
13%
14%
22%
20%
Director
30%
26%
36%
34%
Ethnic Diversity
VP/SVP
0%
0%
6%
5%
Director
6%
7%
9%
7%
"It is human nature for everyone to have an unconscious bias. This bias must be recognized, and then changed – people should not be treated as a representative of a group, but as unique individuals."

— Paul Williams, Compass Minerals board member
To learn more about our approach and performance around inclusion and diversity, please see pages 47 to 48 in our full GRI/SASB report.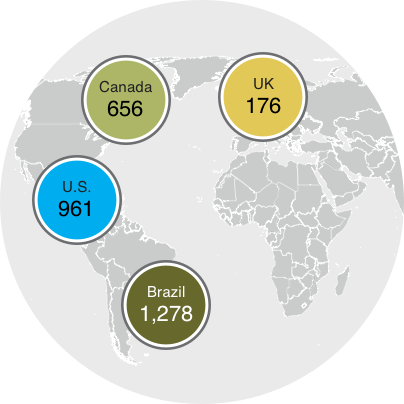 | | |
| --- | --- |
| Male | 88% |
| Female | 12% |
| Total | 3,071 |
The women and men of Compass Minerals are fundamental to our success, so ensuring that they are engaged and have development opportunities available to them is key to retaining them. We also recognize that in order to achieve success in each of these areas we must ensure our leaders and managers are trained and developed to execute our strategy. In addition to the programs below, we have increased our emphasis on front-line management training and senior leadership development in support of building a high performance, inclusive culture.
In 2017, we introduced Compass Minerals Academy, an in-person and online portal with over 100 learning modules. In 2018, employees completed 1,755 courses, such as Clarifying and Managing Your Priorities, The Performance Development Mindset, Evaluating Performance in the Right Way and A New Supervisor's First Performance Development Conversation.
We also offer two resource groups focused on Leading, Inspiring, Networking and Knowing (LINK). These groups are designed to foster inclusion and professional development while offering opportunities for employees to connect and network.
For example, Women's LINK promotes women leaders at all levels, fosters inclusion and supports women employees throughout the company. In 2018, Women's LINK produced a video featuring women from around the company sharing how they are individually and collectively "Pressing for Progress" as part of our third annual International Women's Day event. Women's LINK also spearheaded our fundraising drive during the Susan G. Komen Kansas City Race for the Cure.
Our second resource group, Emerging Leaders LINK, is open to all employees and focuses on activities and training to help prepare the next generation of leaders at Compass Minerals. Emerging Leaders launched a speaker series in 2018, "Learning with Leaders," that allows members the opportunity to hear from senior leaders about their career path and ask questions beneficial to career development. To learn more about our approach and performance for employee training and engagement, please see pages 40 and 46 in our full GRI/SASB report.
Giving Back to Our Communities
Our philanthropy focuses on donations to local, national and global organizations that align with our Core Purpose to help keep people safe, feed the world and enrich lives.
In 2018 in addition to our ongoing commitment to United Way, Compass Minerals contributed monetarily and in-kind to organizations in the regions where we operate, within our four pillars of giving:
Human Services: Child and family services, youth development, crisis and shelter services, and food distribution to those in need Education: Schools, colleges, universities, technological institutes, and other educational programs focusing on STEM (science, technology, engineering and math) education Health: Diseases, disorders, health-related disciplines, patient and family support, treatment and prevention services, and medical research Environment: Environmental protection and conservation, botanical gardens, parks, and nature centers
Supporting the Great Lakes Ecosystem
Our business relies heavily on the Great Lakes ecosystem. We serve customers all around the Great Lakes and transport millions of tons of salt using vessels on the lakes. Clearly, helping preserve this region aligns with our commitment to stewardship of Earth's natural resources.
That's why we made a two-year, $60,000 contribution to The Nature Conservancy, part of which supports its "Our Michigan" campaign to protect and restore the waterways, coastlines and forests of the Great Lakes ecosystem and its 3,500 species of plants and animals.