COMPASS MINERALS 2021 ESG REPORT
Our ESG Strategy
Compass Minerals is a leading global provider of essential minerals focused on safely delivering where and when it matters to help solve nature's challenges for our customers and communities. Through the responsible transformation of Earth's natural resources, we deliver products that help keep people safe, feed the world and enrich lives. That is our Core Purpose, and we take great pride in fulfilling it.
We approach our environmental, social and governance (ESG) work through a fundamental commitment to four key pillars: safety, growth, transparency and stewardship. Together, these pillars form our sustainability compass, guiding our decisions and business practices across all aspects of our company.
Safety: Striving toward zero harm, our highest priority is ensuring the health and safety of our employees and communities in which we operate.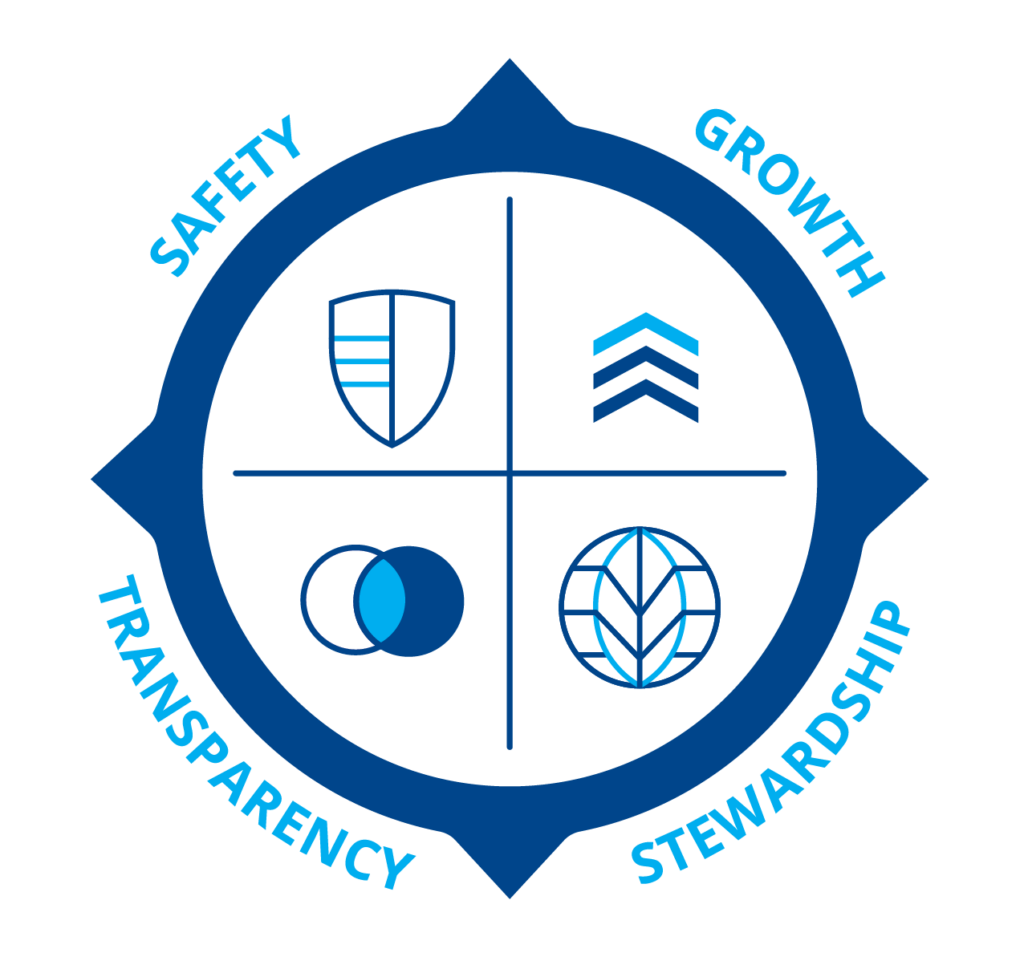 Growth: We work to enable sustainable, profitable growth by maximizing the value and efficiency of our production assets, investing in our people, driving innovation and exceeding customer expectations.
Transparency: Firmly committed to a culture of trust, transparency and accountability, we seek open and honest communication with our stakeholders, while showing respect for diversity in all its forms.
Stewardship: We honor our responsibility to serve as good stewards of the natural resources we rely on to produce, manufacture and market essential mineral products, minimize the impact we have on our environment, and recognize the markets we serve may be impacted by a changing climate.
Fiscal 2021 ESG Report
Our latest report highlights our work and aligns with leading sustainability reporting frameworks, namely the Global Reporting Initiative (GRI) Standards and Sustainability Accounting Standards Board (SASB). We have additionally looked to the Task Force on Climate-related Financial Disclosures (TCFD) and United Nations Sustainable Development Goals (U.N. SDGs) to help inform our reporting and actions.
Data contained in this report labeled "fiscal 2021" covers the 12‑month period beginning Oct. 1, 2020, and ending Sept. 30, 2021, and does not include our former South America operations. In fiscal 2021, we focused on these key areas:
Putting safety above all else. A safe and healthy work environment is essential for all our employees. We're focused on the ultimate goal of zero harm, which includes zero injuries and zero environmental incidents. We continued deploying the SafeStart® program, a behavior-based safety awareness training, across our platform. And we continued to monitor developments throughout the COVID-19 pandemic, taking appropriate steps to protect our workforce. For fiscal 2021, our Total Case Incident Rate (TCIR) was 2.45.
Expanding employee understanding of diversity and inclusion. We believe that everyone has a voice and every voice matters. Our companywide strategy for diversity, belonging, inclusion and equity (DBIE) is built on three foundational components – awareness, engagement and impact. We expanded our efforts to engage with employees on DBIE issues, which included introducing new trainings, strengthening our partnerships with organizations such as the Society of Women Engineers and finding more opportunities to celebrate our diverse workforce.
Building a workforce for the future. Leveraging talent and building capabilities with professional development is beneficial both to our employees and the growth of our business. We launched Compass Minerals University, an online platform that provides on-demand access to nearly 500 learning modules on a variety of topics. Among other trainings, we offer the Compass Leadership Essentials learning track to help employees develop leadership skills and improve communication, teamwork and business results.
Providing safe, high-quality products. We bring our Core Purpose to life through our diverse product lines. Our deicing salt and magnesium chloride products help keep people safe. Our plant and animal nutrition products help feed the world. And our consumer and chemical products, that serve as critical inputs for a wide variety of industries including pharmaceutical, textiles and petroleum, help enrich lives. In fiscal 2021, we identified a lithium brine resource at our Ogden solar evaporation site. We aim to harvest this resource sustainably using the sun and wind to evaporate the Great Salt Lake's naturally occurring brine and expect to enter the lithium market with a battery-grade product by 2025 for use in electric vehicles and energy storage.
Supporting our communities. We actively engage with the communities where we work and live. Our company donated more than $350,000 through Compass Minerals Cares, and our employees volunteered with numerous organizations to make a difference. In addition, we continued to seek feedback from community stakeholders and formalized this process through an anonymous survey. We're using this input to better understand community needs, inform our charitable giving and guide our actions to have a positive impact.
Strengthening our commitment to environmental stewardship. We strive to protect and preserve ecological balance in the areas where we operate and to minimize climate-related impacts from our operations. Our strategy is based on measurement and management of key environmental impacts to air, water, waste and natural resource consumption. We increased focus on environmental regulatory compliance and incurred no significant environmental regulatory fines for our operations in fiscal 2021. Our sustainability data management platform enabled us to collect more data and provide additional transparency into our operations, specifically on freshwater and waste management performance.
Fiscal 2025 ESG Goals and Targets
At Compass Minerals, we recognize the importance of managing our ESG impacts and growing our company in a sustainable manner. As we look to the future, we have been engaging stakeholders and internal business partners in conversations as well as assessing the broader sustainability landscape to help inform our fiscal 2025 ESG goals and targets that will guide us in the years ahead. These goals, and the targets that serve as milestones toward achieving them, span the key focus areas of Our Workforce, Our Environment, Our Products and Our Communities. They are driven by the four pillars of our sustainability compass – safety, growth, transparency and stewardship – and also informed by our most recent materiality assessment completed in fiscal 2021. We will report progress against our goals and targets in our future ESG reports to help ensure our stakeholders understand where we are each step of the way.
Learn more about our fiscal 2025 ESG goals and targets.
Compass Minerals welcomes any and all feedback on our ESG reporting. You can reach out to us at sustainability@compassminerals.com.