COMPASS MINERALS 2020 ESG REPORT
As a leading global provider of essential minerals focused on the long-term sustainability of our company, we are committed to addressing the environmental, social and governance (ESG) issues that matter most.
Amid a year of challenges and uncertainty, we continued to live our Core Values of Integrity, Respect, Collaboration, Value Creation and High Performance. These values are foundational to who we are and how we engage with our shareholders, customers, communities, suppliers, vendors and colleagues.
In addition to our Core Values, our Corporate Sustainability Principles and Code of Ethics and Business Conduct provide a foundation that emphasizes shared commitment to the four points of our sustainability compass – safety, growth, transparency and stewardship.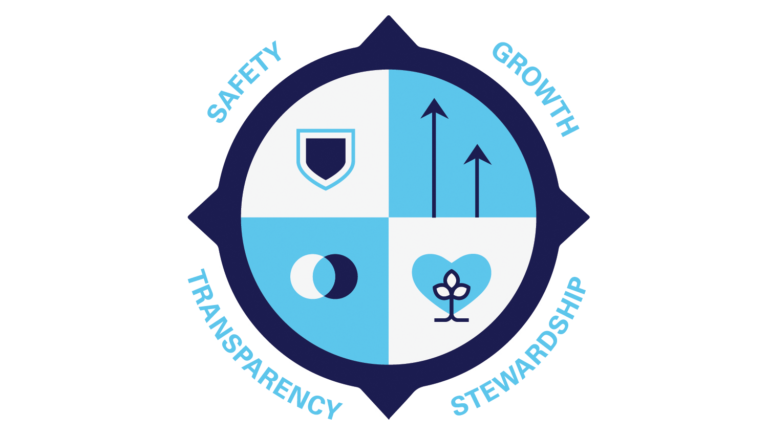 Our 2020 ESG report, "Essential Sustainable Resilient," highlights that as we move forward with our plans for growth, we do so with a complementary focus on the ESG matters of greatest importance to our company and stakeholders. These considerations support our commitment to safe production, environmental stewardship, and an inclusive culture, and assist us to fulfill our Core Purpose of helping keep people safe, feed the world and enrich lives, every day.
The structure and disclosures of the report align with leading sustainability reporting frameworks, including the Global Reporting Initiative (GRI) Standards and the Sustainability Accounting Standards Board (SASB). We have additionally looked to the Task Force on Climate-related Financial Disclosures (TCFD) and United Nations Sustainable Development Goals (SDGs) to help inform our reporting.
Compass Minerals is dedicated to our mission to be the best essential minerals company by safely delivering where and when it matters. In 2020, we focused on these key areas:
Putting safety above all else. The safety and well-being of our employees was critical to maintaining continuous operations and delivering on customer needs as the COVID-19 pandemic unfolded. By encouraging open communication, proactive safety measures and ongoing employee support, our essential business experienced limited operational disruptions stemming from the pandemic. Our primary safety metric for measuring our progress toward zero harm – TCIR – demonstrated a 16% decrease year-over-year.
Building our diversity and inclusion. Compass Minerals promotes a workplace where everyone has a voice and every voice matters. We strengthened our commitment to diversity, belonging, inclusion and equity (DBIE) by creating a new management-level position and establishing four areas of focus. In addition, we improved the pipeline for diversity by increasing ethnic diversity among leadership.
Strengthening our employee culture. Compass Minerals launched and expanded programs and initiatives for employee development, community building and employee engagement. We invested nearly $2 million in employee training and development, a 13% increase over the previous year. Our priority health practices strengthened our organizational health and contributed to employee satisfaction and in 2020, turnover declined 20%. Our efforts were recognized with a Great Place to Work® certification in the U.K. and Best Companies to Work For designation in the Kansas City metro.
Protecting our environment. We are dedicated to the responsible transformation of Earth's natural resources. Managing our environmental impacts is critical to our business and our sustainability strategy. In 2020, we reduced our freshwater intensity by 13% and reduced Scope 3 greenhouse gas emissions by nearly 6%.
Caring for our communities. We contributed more than $350,000 to organizations making a meaningful difference through Compass Minerals Cares. Our commitment to making a positive impact in our communities was more important than ever during the pandemic. Through donations, volunteering and philanthropy, we continue to support local, national and global causes and initiatives that align with our Core Purpose.
Compass Minerals welcomes any and all feedback on our ESG reporting. Please feel free to reach out to us at sustainability@compassminerals.com.