MESSAGE FROM OUR CEO
Guided By Our Compass
At Compass Minerals, we have a clear vision of our corporate purpose. Through the minerals we mine and harvest and the products we produce, we help keep people safe, feed the world and enrich lives every day. This means building a sustainable company. This means ensuring safety throughout our operations for our employees and the communities in which we operate. This means stewardship of the resources we manage and working to minimize or mitigate our environmental impact.
Sustainability for Compass Minerals also means achieving long-term growth to drive strong financial results and real returns for our shareholders. And, it means doing all of this with transparency and accountability. These concepts form the four points of our compass: safety, growth, stewardship and transparency. As we build our company, innovate and bring new products to market, we will always keep this compass in mind.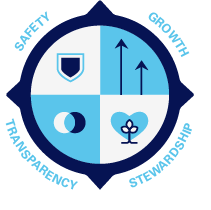 Thank you for your support and interest. We hope you enjoy learning more about Compass Minerals' sustainability commitment.
Fran Malecha
CEO and President
Compass Minerals
Enter 2016/2017 Sustainability Report
View 2015 Environmental & Social Responsibility Update
View 2014 Sustainability Report, Taking Care of the Essentials