MESSAGE FROM OUR CEO
At Compass Minerals, we have a clear vision of our corporate purpose. Through the minerals we mine and harvest and the products we produce, we help keep people safe, feed the world and enrich lives every day. This means building a sustainable company. This means ensuring safety throughout our operations for our employees and the communities in which we operate. This means stewardship of the resources we manage and working to minimize or mitigate our environmental impact.
Sustainability for Compass Minerals also means achieving long-term growth to drive strong financial results and real returns for our shareholders. And, it means doing all of this with transparency and accountability. These concepts form the four points of our compass: safety, growth, stewardship and transparency. As we build our company, innovate and bring new products to market, we will always keep this compass in mind.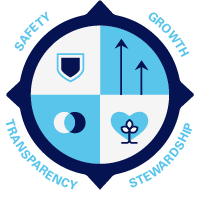 Growth
We made progress on key objectives in 2016 despite a challenging environment in many of our end markets. We experienced a second consecutive mild winter, which depressed highway deicing sales volumes and profitability. We also continued to face headwinds from weakness in the North American agriculture market. These items negatively impacted our bottom line results.
2016 FINANCIAL HIGHLIGHTS
Total 2016 revenue reached $1.14 billion, an increase of 4% from $1.10 billion in 2015
2016 adjusted operating earnings of $186.1 million declined 16% from 2015 results of $221.4 million
Raised $450 million in attractively priced long-term debt to finance the Produquímica acquisition
Despite these challenges, we continued to execute on major investments to ensure the long-term growth potential of Compass Minerals. Over the last three years, we have spent approximately $525 million in capital expenditures. This has included important long-term maintenance projects at two of our key assets to support their longevity, as well as investment to enable increased production capacity. These investments, typically made only once every 30 to 40 years, are critical for our ability to produce low-cost rock salt and sulfate of potash for decades to come.
The $525 million in capital projects have included investments for efficiency as well. At our Goderich mine, we are investing $75 million to shift the entire mine to continuous mining and continuous haulage. From a sustainability perspective, this is a home-run project. This project will reduce the number of diesel-fueled pieces of equipment used underground, leading to improved underground air quality. The new mining systems have several benefits. First, because they reduce our use of heavy equipment underground, they improve air quality and reduce our fossil fuel use. In addition, the new equipment is electrically powered. Because of the mine's location in Ontario, Canada, this electricity is generated with nuclear and wind power, thus improving our overall carbon footprint. These factors, plus the reduced labor costs associated with the new mining technology, are expected to eliminate approximately $30 million in annual operating costs beginning in 2018.
Additionally in October 2016, we furthered our strategy to build a leading specialty plant nutrition business by completing the acquisition of Produquímica Indústria e Comércio S.A. (Produquímica), one of Brazil's leading manufacturers and distributors of specialty plant nutrients. This acquisition has provided Compass Minerals with a significant platform in Brazil, one of the most important agriculture markets in the world and vastly expanded our portfolio of specialty plant nutrients, including technology-driven micronutrient formulations, as well as primary and secondary nutrients that efficiently support farmers' efforts to harness the yield potential of their crops.
Produquímica also produces a range of chemical solutions products that serve the water treatment and industrial markets. Sales of these products are generally consistent throughout the year and balance the strong seasonality of the agriculture business. In addition, demand for chemical solutions products is impacted by the increasing need for clean and odorless water throughout Brazil, driven by population growth, infrastructure investment and industrial development.
With Produquímica, we not only found a strategic fit that advances our goal of becoming a global leader in specialty plant nutrition, but also a company with a commitment to sustainability. Many of these sites have achieved ISO certifications, many of their products are certified for use on organic crops, and they have engaged with local communities on environmental and social projects. We look forward to working to further these efforts and to bring them into our reporting process in 2017.
Along with financial growth, we believe in supporting the growth of our employees and building a more diverse and inclusive organization. This commitment means providing a consistent level of financial support for employee training and development, as well as establishing benchmarks and metrics for broadening and deepening our talent pool. Early steps have included increasing the number of women at the board and senior management team level, establishing employee resource groups to foster growth and engagement, and company-wide employee education programs focused on developing our next generation of leaders. We expect more of these developments in the future, all of which will make Compass Minerals a more agile and competitive company for years to come. To affirm our commitment, we have established some important targets that we believe will help us build and strengthen our organization.
Safety
While growth is clearly important, it must be achieved while maintaining a safe working environment for our employees. In 2016, we continued to make progress with reducing the severity of safety incidents that occur at our operations. We have achieved this through a risk-based approach that works to eliminate the top nine risks and hazards in our operations and through heightened engagement with our Hearts & Minds safety campaign. We are targeting an additional 10% reduction in our Injury Severity Index for 2017.
We must continue to build our safety culture so we can make additional progress with the ultimate goal of having an injury-free workplace for all. This year we experienced an increase in low-level injuries, which resulted in year-over-year increases in several safety metrics. Through additional education and compliance audits, we expect to drive improvements in our broader safety metrics.
Stewardship
We are, at our core, a minerals company. Because we rely on natural resources throughout our operations, it is incumbent upon us to be good stewards of these resources. Furthermore, the markets we serve are subject to certain climate risks. We sell highway deicing salt throughout much of North America and the U.K., and our sales for these products are based on winter weather conditions, such as snow, ice and cold temperatures. We sell plant nutrients to farmers in North America and Brazil and these farmers depend on rain and other climatic growing conditions to ensure the productivity of their crops. Given these realities, we make concerted efforts to minimize the environmental impact of our operations and work to ensure that our products are used in an environmentally responsible way. These efforts include a range of activities from educating our customers on the proper storage of deicing salt, to using higher-efficiency, lower carbon footprint equipment in our operations, to creating new avian habitats as part of a land reclamation plan that recognizes the value of biodiversity. In these ways, we demonstrate our environmental stewardship to our employees, our customers and our communities, while contributing to broader efforts to maintain a healthy environment for the world in which we live.
The drive to reduce our environmental impact is the same drive we have to build a more efficient and effective company. Reducing our emissions, our use of fossil fuels and our use of fresh water is not just good for the environment, it is also good for our profitability. Thus, these efforts are critical to ensuring the long-term sustainability of our company.
To demonstrate our commitment, this year we are establishing specific targets on important environmental metrics. These targets, which are detailed later in the report, help provide an internal framework for our sustainability efforts and represent another important step in our sustainability journey.
Transparency
The targets we are establishing around environmental measures, safety, diversity and people development are part of a broader effort to deepen our transparency around sustainability. This effort is in keeping with our Core Values of Integrity, Respect, Value Creation, Collaboration and High Performance. In fact, sustainability provides our company the opportunity to live these values each and every day. In doing so, we not only build a better company for our employees, our shareholders and the communities in which we operate, we build a company that has the ability to drive long-term, sustainable value.
Part of our commitment to transparency involves engagement with our stakeholders. This year's report began with a significant outreach effort to external and internal stakeholders, which generated strong participation rates. The results of this outreach have helped inform our report and point the way to areas of focus for the future. They also demonstrated to us that our stakeholders place a significant value on these four key areas that I've highlighted as our sustainability compass. Whether you are an employee, a shareholder, a neighbor, a customer or a vendor, our sustainability compass is ensuring that we at Compass Minerals are doing what it takes to build a company here for you today, tomorrow and well into the future.
Fran Malecha
CEO and President
Compass Minerals